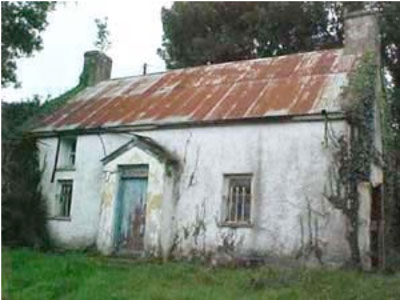 FROM KYLEOGUES, GALBALLY, CO. LIMERICK
TO BRISBANE, AUSTRALIA.
Michael John Martin, Born Galbally, Limerick, Ireland – Immigrated July 26 1887- Vessel Dacca, Moreton Bay, Brisbane, Colony of Queensland – Occupation:Bootmaker, IrelandAddress – Hale Street, Petrie Terrace, Brisbane, Queensland – Burial: Sep 10 1906 – Toowong Cemetery, Brisbane, Queensland.
"I was bound to bootmaking trade in the year 1855 at Lough Gur, County Limerick near Knockaney and Bruff. Then I commenced to work at the boot and shoe making trade at home Keylogues in the year 1857. Then getting on well. Times were very good. Crops and prices good. My mother, Ellen Connors died in January 5th 1862 and was buried in Ballylanders R.I.Peace. I was married to Ellen Frazer on the 5th March 1862. After that good times and bad times went round to the year 1878 and 1879 when crops failed. Corn crops did not ripen".
My brother, Pat Martin was born in March 1835 and married in the year 1866 to Mary Mahony.
My brother, Pat Martin, and cousin Ben Martin and their families left home on the
lst of July, 1878
Aboard the SS Oaklands bound
for Adelaide, South Australia,
a voyage of 8 weeks and 4 days.
IMMIGRANTS TO ARRIVE.
The following immigrants for this colony are on board the SS Oaklands, which sailed from
Plymouth on July 5 and will be due at Adelaide On September 29 1878
(arrived Sturday, Sept 21st 1878 –
Ref. The South Australian Advertiser Report)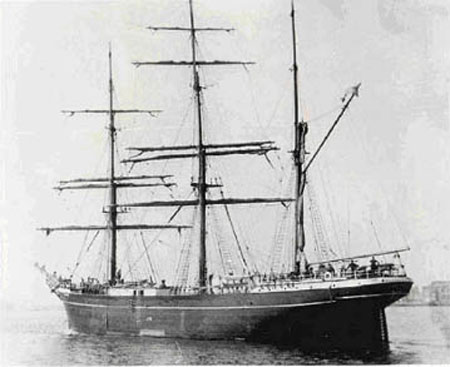 SS.Oaklands
–
Nationalities.— On Board were English, 303; Irish, 103; Ger
man, 3.
Benjamin Martin m Joanna/Johanna Halloran b app 1835 Country Limerick –
Sailed for Australia on SS Oaklands to Adelaide arriving 22.9.1878
(Ben Martin was then 43yrs old) with 2 daughters Mary (3) and Johanna (9).
I have acquired death certificate for who we think is Ben – 10.12.1903 at Somerton near Glenelg, SA.
My Michael John Martin speaks of his father as William Martin and mother, Ellen Connors both buried in Ballylanders churchyard, which does not rule out it being an uncle. There are so many common names between the families! Joanna, Mary, Michael a link will have to appear soon – and we are looking at the same century! Info so far is:
William Martin died 24.6.1880 had married Ellen Connors d 5.1.1862 (both buried Ballylanders)
Family known of are two Boys 'Michael John and Patrick'
Michael John B1833 married Ellen Frazer born 12.1833 and married 5.3.1862 (don't know where) travelled to Aust/Brisbane on RMS Dacca arriving 30.5.1887 (Michael John was then 54yrs old?)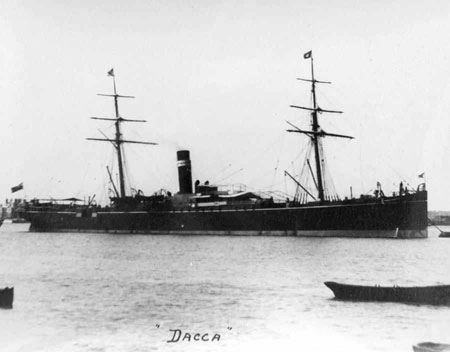 Patrick (Pat). Martin, 33, bootmaker, wife and six children;
(Pat Martin was married to Mary Mahony)
| | |
| --- | --- |
| Name: | Patrick Martin |
| Birth Year: | abt 1838 |
| Age: | 56 |
| Death Date: | 08 Dec 1894 |
| Death Place: | Adelaide |
| Residence Place: | Norwood |
| Father's name: | P Martin |
| Registration Place: | Adelaide, South Australia |
| Page Number: | 259 |
| Volume Number: | 223 |
(Benjamin Martin was married to Joanna/Johanna Halloran)
Benjamin (Ben). Martin, 40, agricultural laborer, wife and two children;
COUSINS mentioned in correspondence.
Mary and Ellena/Ellen Martin of Ballyfaskin daughters of Mrs Thomas Martin.
Correspondence reads:
'The last I remember to see from the train was your loving mother, Mrs Thomas Martin, Ellen Richardson, and she crying and roaring as the train turned around
.'
It is hard to tell here whether Michael is talking about Mrs T Martin being Ellen Richardson (maiden) or whether he is referring to 2 people.
I have also been emailed death details for Johanna Martin 5.6.1883 at Glynde, SA. (have yet to find their graves – they may shed some light on children etc and cause of her death)
"There are no births shown for a father Ben Martin in South Australia".
I promise to keep in touch as I find the time. Thank you so again for your information.
(Per Catherine Power)–
FAMILY TREE
-1.William Martin B1812 – D1880
–+Ellen Martin (born Connors) B1812 – D1862
Abode:- Kyleogues, Galbally. Co. Limerick.
– 2 Michael John Martin B Dec. 1833 – D Sep 9th 1906
—- + Ellen Frazer B.1843 – D.1916
— 3 Henry Martin (Son)
— 3 Ellen Martin B 1863 – ?
—-3 John Martin B.1864 – D.?
—-3 Henry Martin B1866 – ?
—-3 William Martin B. 1868 – D. ?
—-3 Michael Joseph Martin B 1870 – D 1926
— + Mabel Josephine Gilbert B.1876 – D.1924
—— 4 Anastasia Mabel Veronica Martin, Born Nov 11 1903 in Caboolture, Queensland, Australia, Died Dec 05 1981 in Oxley, Brisbane, Queensland, Australia
———+ "Memar" Grieve
—- 3 Patrick Martin 1872 – D. ?
—- 3 Anastasia Martin B.1873 – D.1875
Queensland, Australia, Electoral Rolls 1922
Election: 1922 – Paddington, Brisbane, Queensland, Australia
Residence: 1922 – 14 Parish St., Queensland, Australia
—- 3 Mary Martin B,1875 – D.1945
—— + – ? Cain
— 2 Patrick Martin B 1835
—- + Mary Mahony (married 1866)
—–3 – 6 Children, Names unknown
Michael John Martin, Born Dec 1833 in Keylogues, Galbally, County Limerick, Ireland, Died Sep 09 1906 in Petrie Terrace, Brisbane, Queensland
| | |
| --- | --- |
| Birth: | July 15 1870 – Galbally Limerick Ireland |
| Death: | Apr 12 1926 – Gayndah Qld |
| Parents: | Michael John Martin, Ellen Martin (born Fraser) |
| Siblings: | Ellen Martin, John Martin, Henry Martin, William Martin, Patrick Martin, Anastasia Martin, Mary Cain (born Martin) |
| Wife: | Mabel Josephine Martin (born Gilbert) |
| Children: | Thomas Joseph Martin, Ellen Mary Martin, Henry Stephen Martin, John Martin, Michael Benedict Martin, Anastasia Mabel Veronica Grieve (born Martin), <Private> Martin |
Michael Joseph Martin , Born Jul 05 1870 in Galbally, County Limerick, Ireland, Died Apr 12 1926 in Gayndah, Queensland, Australia
Mary Martin, Born Feb 26 1875 in Galbally, County Limerick, Ireland, Died Oct 22 1945 in New South Wales, Australia
Anastasia Mabel Veronica Martin, Born Nov 11 1903 in Caboolture, Queensland, Australia, Died Dec 05 1981 in Oxley, Brisbane, Queensland, Australia